4 And coming to Him ("as you come to him" [ESV, NIV]; cf. Ps. 34:5 [LXX]) as to a living (alive, life-giving) stone which has been rejected by men, but is choice ("chosen" [ESV]) and precious in the sight of God, 5 you also, as living stones, are being built up as a spiritual house for a holy priesthood, to offer up spiritual sacrifices acceptable to God through Jesus Christ. 6 For this is contained in Scripture: "Behold, I lay in Zion a choice stone, a precious corner stone, And he who believes in Him will not be disappointed." (Is. 28:16) 7This precious value, then, is for you who believe ("to you who believe" [NIV; i.e., in the eyes of); but for (or "to") those who disbelieve, "The stone which the builders rejected, This became the very corner stone," (Ps. 118:22) 8 and, "A stone of stumbling and a rock of offense" (Is. 8:17); for they stumble because they are disobedient to the word, and to this doom they were also appointed.
In light of the fact that you are conceived anew with God's own life in you because of what the Messiah has done, and in light of the hope and call to holiness that is inextricably tied to this…
We come to the one who is alive and who is the very source of life; we have a living hope (1 Pt. 1:3) because of the living stone. As we keep approaching Him boldly and confidently (cf. Heb. 4:16), He puts His life to work in us, nourishing us and building us up as a house/household that is "characterized by the Holy Spirit" (the meaning of "spiritual" in this context.) Through the Holy Spirit, we bring him our offerings that are pleasing to Him.
1 Therefore, I urge you, brothers and sisters, in view of God's mercy, to offer your bodies as a living sacrifice, holy and pleasing to God—this is your true and proper worship. (Rm. 12:1, CSB)
15 Therefore, through him let us continually offer up to God a sacrifice of praise, that is, the fruit of lips that confess his name. (Heb. 13:15, CSB)
In the OT sacrificial system, it was important for the sacrifices to be inspected carefully, to make sure they were blameless (see Lev. 1-6). Although the leaders of Israel rejected Jesus, God approved him as blameless and without any flaws or defects. He showed this by raising Jesus from the dead.
8 Then Peter, filled with the Holy Spirit, said to them: "Rulers and elders of the people! 9 If we are being called to account today for an act of kindness shown to a man who was lame and are being asked how he was healed, 10 then know this, you and all the people of Israel: It is by the name of Jesus Christ of Nazareth, whom you crucified (rejected by men) but whom God raised from the dead (precious to God), that this man stands before you healed. 11 Jesus is " 'the stone you builders rejected, which has become the cornerstone.' 12 Salvation (cf. 1 Pt. 1) is found in no one else, for there is no other name under heaven given to mankind by which we must be saved." (Ac. 4:8-12, NIV) 
Cornerstone/Capstone/Keystone
"The stone which the builders rejected turned out to be the most important of all" (1 Pt. 2:7, TEV)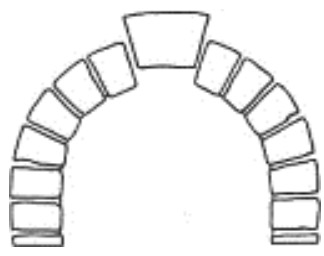 " 'Cornerstone' may refer to: (1) the stone in a new building laid first with great care and ceremony so as to ensure a straight and level foundation; (2) the interlocking cornerstones that join and strengthen two connecting walls; (3) the capstone at the top corner of a wall; or (4) the keystone of an arched door or gateway, the center and topmost stone that joins the two sides and supports the arch itself (the most important stone in which the name of the city, the ruler, and builder were often carved)." 
In the eyes of some, the stone is precious, and therefore they come to him and place their faith in him; in the eyes of others, the stone is unfit, a source of offense and a cause of stumbling, and therefore they reject it.
Better translation of the second part of verse 8: "They stumble because they are disobedient to the word, to which also they were appointed" (MEV). The point here is similar to Acts 2:23 and Ac. 4:27-28:
In accordance with his own plan God had already decided that Jesus would be handed over to you; and you killed him by letting sinful men crucify him. (Ac. 2:23, TEV)
27 Indeed Herod and Pontius Pilate met together with the Gentiles and the people of Israel in this city to conspire against your holy servant Jesus, whom you anointed. 28 They did what your power and will had decided beforehand should happen. (Ac. 4:27-28, NIV)
There also seems to be a play on words of sort here with verse 6:
They "stumble" over the message, refusing to believe, for which purpose they were also set in place (same verb as v. 6) according to plan. (1 Pt. 2:8, my translation)
According to His plan, God put the cornerstone in place, and also "set in place" those who would crucify Him. Though they rejected the Messiah, God in His wisdom used what they meant for evil (cf. Gn. 50:19) to make a way for the world's salvation (cf. 1 Cor. 2:6-9).